30.09.2011

Opening of the exhibition "Turkuaz Pintura y Joyas" with the sponsor of the Embassy of Paraguay in Berlin
With the purpose of benefiting the musical project "Sonidos de la tierra" in Paraguay, four artists exhibited their works on September 30.
---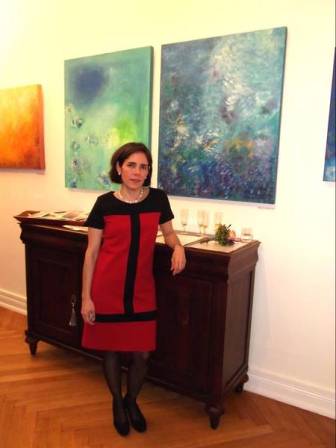 The Latin American painters, María Liz Aquino, from Paraguay; MargAmor and Stella Schouwey-Sanginés from Mexico exhibited their paintings and Emel Uyar, from Turkey, exhibited his jewelery collection.
The exhibition of the works of art is carried out with the purpose of benefiting the magnificent musical project, "Sounds of the Earth" by the Paraguayan teacher Luis Szarán who purposely made himself present at the inauguration.
The opening of the exhibition was carried out by S.E. Raúl Alberto Florentín Antola, Ambassador of the Republic of Paraguay in Germany and in which most of the representatives of the Latin American diplomatic corps accredited in Berlin were present.
Hispanovisión had the opportunity to talk with the artist María Liz Aquino, who told us that she has been living abroad since 1995 and the last two years in Berlin. - "All my life I have had this artistic vocation", commented María Liz. - "I think my style is abstract, but expressing peace, tranquility and harmony, I identify with the blends of green and turquoise colors," he emphasizes. For this reason between 2002 and 2003 he began his formal studies of painting at the "Institute of Visual Arts Veronika Koop" in Asunción, Paraguay.
Between 2003 and 2005, she continued her apprenticeship in the "ABC Kunstschule Paris" of the city of Hamburg and between 2006 and 2009 she worked with the Swiss artist Jacqueline Busato in the city of Bern, who has driven her in her passion for painting and thanks to this, he opened his first exhibition in 2009 at the Konfrenz Center in the city of Bern. It turned out to be successful and that's why it launched its second exhibition in the year of 2010 in the same city.
Source: Hispanovision.de
---